If your bra size is any bigger than an orange, chances are, finding a proper sports bra to support you when running, jumping and trying to keep up with the svelte trainer is a gargantuan task.
There just aren't many options for big-boobed women to choose from. It can be really difficult to find a bra that's supportive, doesn't make having bigger boobs a nightmare, and will make us feel super cute.
We've tracked down some high-impact sports bras that can fit up to an extra-large or can be custom-made to suit your needs, and the best part — they're everything a curvy girl could want! Plus, we've slipped a few medium-impact gems in, too. Because we're not jumping up and down every day, are we?
Why Wear A *Good* Sports Bra?
Like many things in life, breasts are pretty complex. They are made up of mostly fat, tissue and ligaments. Because breasts do not contain muscle or are not attached to muscles, they can move independently from the rest of the body and are susceptible to strain. Meaning that our breasts are supported by just skin and ligaments.
These ligaments, called Cooper's ligaments, are fragile and once torn, they lose their ability to support the breast leading to pain and saggyness. Women with bigger busts are more likely to have sag due to the skin and ligaments being under more strain because the weight of the breast.
So, ensure that when choosing a bra, the band is not too tight, there should no spillage or straps cutting into your shoulders… and that you are 100% comfortable.
READ MORE: Exactly What To Consider When Choosing A Sports Bra
1/ High-Impact Sports Bras
High-impact bras are great for high intensity exercises and activities such as running, dance, basketball, kickboxing and HIIT (High intensity interval training).
PANACHE Ultimate High Impact Underwire Sports Bra
R 1204
Buy It
This UK-based brand offers support that lowers movement by 83%. Smooth, flat seams eliminate friction and discomfort while the wider straps make for greater support and easing shoulder pressure.
Lisa Raleigh Body Kind Sports Bra
R 999
Buy It
This bra is best for changing bodies: women who are losing a large amount of body fat, pregnant women whose bodies are in flux, and anyone else who needs a super-adjustable sports bra. It comes in eight sizes up until 5XL. The chest and shoulder straps are adjustable, with extra hooks in the front to secure the front zip (no more grunting while trying to get your bra off!).
Asics Color Block Bra III
R 790
Buy It
A great high-impact bra that's made from about 78% recycled materials (double yay!) plus broad, breathable straps to keep you supported.
Under Armour Infinity High Blocked Sports Bra
R 800
Buy It
This bra incorporates new knowledge that when boobs move, they don't go up and down, but rather in a figure eight. The padding has this in mind, with adjustable elastic straps and a little more coverage at the front.
READ MORE: The 6 Best Resistance Bands For Every Type Of Workout, According To Certified Trainers
adidas TLRD Impact Luxe Training High-Support Bra Womens
R 1164
Buy It
These super-detailed bras mould to your breast and keep everything in place while you train. It's also made with about 60% recycled materials and straps are adjustable. Plus, it's just so beautiful.
2/ Medium Impact Bras
Medium-impact bras still require a fair amount of support for bending over while executing mountain climbers, push-ups and other strength training maneauvres.
Salomon Essential Move On Seamless Sports Bra
R 600
Buy It
Seamless construction won't chafe and the stretch fabric fits most body types and moves with you while you run or work out.
READ MORE: 11 Best New Running Shoes That'll Inspire Your Next PB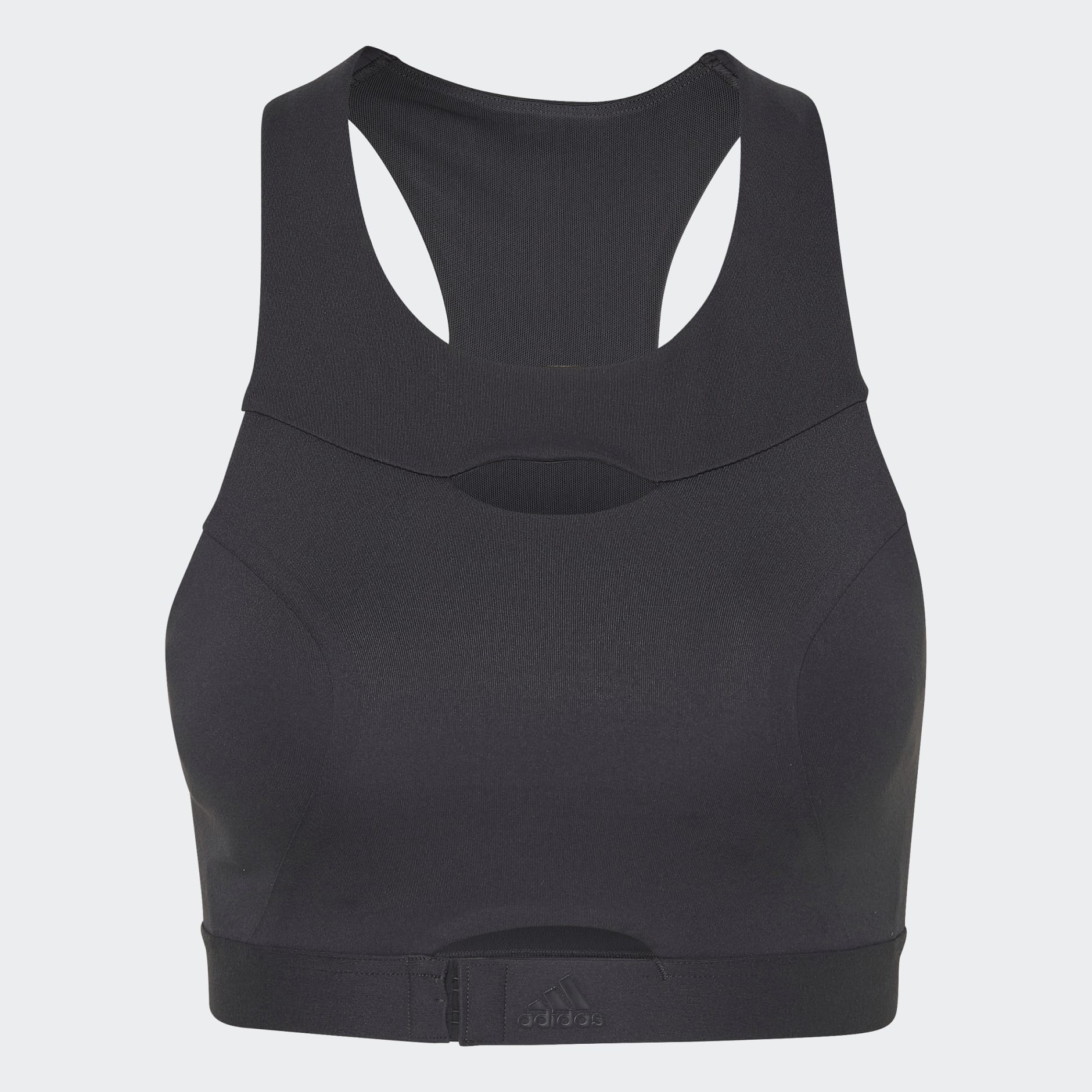 adidas PowerImpact Luxe Training Medium-Support Bra
R 500
Buy It
So many things to love about this bra: the front entry means it's so much easier to get in and out of, plus the fabric is quick-drying, so you don't have to look like you've emerged from an ocean swim post-sesh.
READ MORE ON: Fitness Fitness Gear Style Style Tips