For some, deciding how to meditate is its own low-grade stress inducer. Which, let's face it, that's the complete antithesis of the practice itself. Meditation, after all, is a tool to help reduce the constant overwhelm that infiltrates most of our over-stimulated minds.
To help decipher what type of meditation is best for whom, I had an insightful chat with world-renowned meditation teacher, Yogarupa Rod Stryker. 
A longtime member of the Wanderlust family, Stryker has been teaching meditation for over 30 years. He's the founder of ParaYoga, where he teaches yoga, meditation and tantra, and is also the creator of a highly-lauded meditation and yoga nidra app called Sanctuary. 
Since Stryker is known for his ability to make ancient wisdom practices accessible to modern audiences, he was the perfect person to simplify what some may feel is the dizzyingly complicated world of meditation. 
Meditation, guided meditation & visualization: What's the difference, anyway? 
First off, let's admit that questioning the difference between meditation, guided meditation and visualization may seem a bit redundant. But consider for a moment that even I—a fairly well-informed wellness writer, daily meditator, and certified yoga instructor (though I've never taught)—have to confess that I'm not quite sure of the difference. I've seen many friends get so befuddled by the categorization of meditation that they've actually never even started. 
So, I started my convo with Stryker by breaking down my understanding of the meditation practices I hear referenced most. 
Stryker at Wanderlust Tahoe 2011
I shared with him that my base understanding was that regular meditation includes repeating a word or mantra, or alternatively, focusing on your breath. Guided meditation is, of course, a guided experience. And visualization can be guided or not, but seems to be more about seeing a new life experience with your mind's eye with the goal of actualizing it. "Does that even qualify as meditation?" I asked.  
Though Stryker had no intention of sending my mind into more confusion, he offered that there are, indeed, many more forms of meditation than those, including mindfulness meditation and kriya. 
Ahh yes… Of course, I've heard of those too. 
"Most forms of meditation ask us to bring our attention to a specific object, breath, mantra, part of the body or chakra," he coolly outlined. "We are trying to get to effortless concentration; to get the mind still."
Guided meditation, he continued, asks you to move your mind, in order to bring out its most positive qualities. 
He said that although some forms of visualization are meditation, others may not necessarily be meditation at all. Still, visualization can also be life-affirming and evoke positive, aspirational emotions—just like meditation can. 
Kriya meditation is a form of moving your mind, much like visualization. "Kriya means to move or to purify," he pointed out. 
How about Yoga Nidra? 
Yoga Nidra has always felt like a visualization practice to me, so, I asked Stryker to explain how (or whether) it fit within the meditation equation. 
"Yoga Nidra is meditation with deep sleep. Its aim is a state of deep, dreamless sleep in the height of meditation. It's a guided practice that takes you to the heights of meditation," he revealed. 
Stryker is a prominent advocate for the practice of Yoga Nidra. He decided to focus on teaching Yoga Nidra more and more over the years, as he watched the collective level of societal stress rise, while sleep quality deteriorated.
"This makes it more difficult for people to focus their attention. The destination of Yoga Nidra is similar to meditation, but you do it lying down and relaxing, and it's guided. This helps people feel their bodies and focus their minds, without having to sit and concentrate."
How do we know which practice is best for us? 
Stryker ultimately told me that any or all meditation practices may be the most effective for anyone, at any time, depending on where you're at and what is going on with you.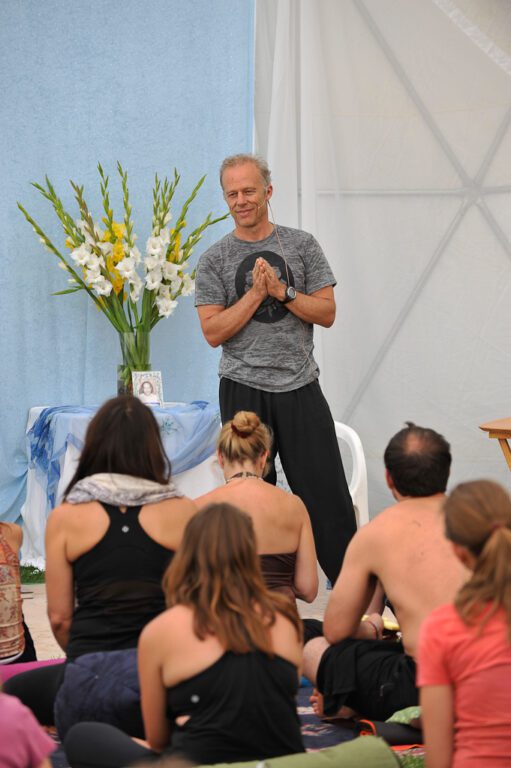 "Sometimes the simplest form is best," he reasoned. He suggests that beginners sample different techniques, starting with watching the breath and guided meditation. Once you've dabbled in a few different methods, Stryker said you should pick the one that provides you with a positive experience.
"For anyone starting, do the one that brings you some joy. That is the one that will provide the most benefit," he affirmed.
Why should we meditate, anyway?
Sure, we should all meditate… The world is pretty darn crazy nowadays, and we could all use some good ol' ancient techniques to regulate our minds and bodies. Well, that's my super-basic rationale, but in his decades of experience, Stryker has actually seen meditation help countless people. 
In his own life, Stryker explained that meditation allows him to start each day anew. "It makes it possible to step out of the difficulties of the strain and stress of the past, and show up as fully as possible."
"A regular meditation practice allows people to live with more joy and less fear," he concluded. 
Labels and terminology aside, with Stryker's guidance, ultimately I understood that meditation really is pretty simple after all. 
—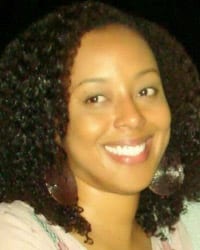 Kinisha Correia is an award-winning journalist, content writer, editorial director and founder of About Her Culture, who has worked with a variety of publications throughout the US and the Caribbean. Her body of work largely explores the cultural intersections of wellness and its correlation to social equity; a people and planet-focused approach to business; and women of Caribbean and African descent effecting positive change across the globe. Kinisha is Jamaican and currently lives in the US.
Website | Instagram